If you van life in a hot place, you understand the benefits of an air conditioner. AC units are pretty crucial for staying comfortable in many parts of the United States. Especially in van life "mecca" areas such as southern Arizona and California–staying cool is not just a matter of comfort: it can literally mean life or death.
Right now, 12v air conditioners are enjoying a moment as van lifers who need nomadic cooling install them in their vans.
If you're curious about whether or not a 12v air conditioner is right for you, or considering buying a 12v AC unit, keep reading.
What is a 12V Air Conditioner?
A 12v air conditioner runs off a battery bank or generator. It is different from the rooftop air conditioners you might see on many vans and RVs. Those rooftop units are 120v, meaning they have to be hooked up to shore power in order to use them.
If you're off-grid, you can run a 120v AC unit through an inverter to draw power from your battery. However, this is about 10-15% less efficient than if you ran the unit directly from a 12v connection. This means that a 12v air conditioner is a more efficient option when you're boondocking.
How Does a 12v Air Conditioner Work?
Most 12v cooling systems are "swamp coolers" meaning they work by blowing air through a wet cooling pad. The water in the pad absorbs heat from the air, and cool air is dispersed on the other side of the pad.
When thinking about installing a 12 volt air conditioner, first of all, make sure that your van is properly insulated. An air conditioner can only do so much, and if you don't have good insulation, all that precious (and expensive!) cool air will be going to waste.
12v units are expensive, and you may be surprised by how much you can cool your van with proper insulation and other methods like window covers.
Pros and Cons of 12V AC Units
While there are many benefits to a 12v cooling unit, there are also some caveats to be aware of. Let's take a look at the pros and cons.
more efficient than a 120v unit run through an inverter

more charging/power versatility

designed to be portable, so you can easily remove it from your van if you want

sometimes installation is very easy – if you can find a model that drops right into a 120v rooftop cooling spot
they are gaining popularity, but are still a fairly new piece of equipment, so they can be hard to find

the price is still fairly high for most units

they can be heavier than 120v units

installation can be a pain if you don't have a rooftop spot already available (you may need to modify a window or wall)
5 Top-Rated Portable 12V Air Conditioners
These are my recommendations for 12 volt air conditioners. To come up with this list, I looked at power consumption, ease of installation, price, size, customer support and availability. Let's dive in!
Dometic Coolair 2000 RTX 12v
This air conditioner is widely regarded to be the best compromise between price and quality that you can find right now. It's designed to be rooftop mounted, so it's a very easy drop-in if you're replacing your 120v unit. It's also easier than mounting to a wall or windows.
It has a large, two-cylinder compressor that runs quietly, and it features a big, bright display that's easy to use. The only downsides are that it is very pricey, and only mounts on the roof, so if you can't do that, it won't work for you. It will also push the limits of most battery capacity.
Price: $3000
Weight: 73lbs
Battery requirement: 180+ Ah
Cooling capacity: 6824 BTU
This unit is similar to the Dometic Coolair, but comes at a slightly cheaper price point. It is designed to be rooftop mounted, so will easily drop in to replace your 120v unit if you have one already. You can also do a rooftop installation from scratch quite easily.
The power draw on this unit is between 50 and 70 amps depending on the conditions. It comes with a remote control for easily changing the settings, and you can customize the interior mounting to match the decor of your van.
Price: $2449
Weight: 83lbs
Battery requirement: 50-70 Ah
Cooling capacity: 10,230 BTU
Another rooftop mounted unit, this air conditioner is the most expensive on the list, but also reported to be one of the best units out there. It does explicitly state on the site that lithium batteries are preferred to operate it, but not required.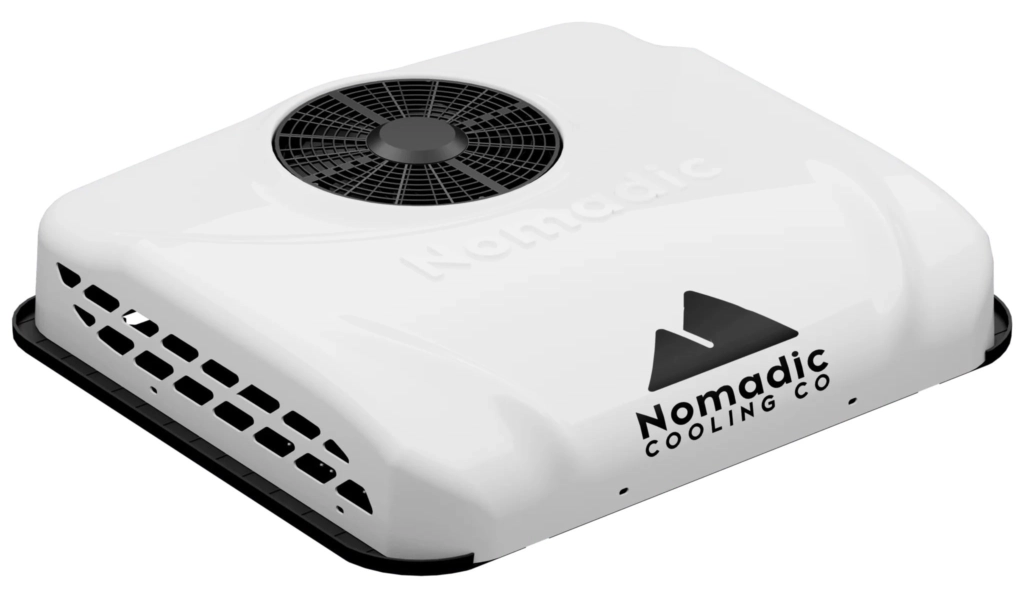 This unit draws less power than the Dometic, and around the same as the B Cool. Like the Dometic, it has an Eco mode that should be used as its default setting. It is lighter than either of the other units, and purported to be very efficient, non-polluting, and quiet. The only real downside to this unit it the cost.
Price: $3490
Weight: 61lbs
Battery requirement: 65 Ah
Cooling capacity: Not stated
OFF Indel B Plein-Aircon 12V
The OFF Indel B Plein-Aircon is designed to be installed in your campervan roof, above your bed area. It will help cool your living space and act as a dehumidifier. This AC unit is completely run off of batteries–no generators or 220v energy sources needed. 
Built with a Samsung direct-current compressor, the unit is quiet to run and won't put out C02 emissions. One of the most stand-out features of this air conditioner is its relatively low 12v power consumption (16-42 Ah), outperforming all other AC units on the list. It's also specifically designed for campervans (versus bigger RVs) and its company states that any AC unit putting out more than 5,000 BTUs is a waste of energy for the small space of a camper van. It also comes with a remote control!
Price: $2995
Weight: 55.7lbs
Battery requirement: 16-42 Ah
Cooling capacity: 4,092 BTU
VES Classic Cruise 'N Comfort 12v
This unit is best installed by a professional shop, as it doesn't come with the freon lines necessary to operate. Those will need to be custom-made once the rest of the installation is complete.
This air conditioner has the lowest current draw of any unit on the list, and the main difference between this and other units on the list is that it mounts anywhere. The unit isn't as sleek or stylish as some of the other options on the list, but it has a good cooling capacity and will certainly get the job done.
Price: $3195
Weight: Not stated
Battery requirement: 35 Ah
Cooling capacity: 6000 BTU
Honorable Mention: BougeRV Portable Air Conditioner
Technically, the BougeRV air conditioner runs on a 24V power system. But you can use a 12V to 24V step-up converter rated for at least 15 amps to run it on a 12V system.
This is a solid choice for anyone who wants a lightweight, portable AC to take with them. Whether that's between vans, RVs, tents, homes, or even the outdoors, it has a big carrying handle and is reportedly very easy to maneuver. 
Advertised as offering effective cooling for spaces up to 54sq ft. big, it's a modest and compact air conditioner built with a Panasonic compressor. Just note that if you plan on using it to cool a tent, you'll want to keep the AC unit outside of the tent since the unit can reach temps up to 105 degrees F!
It doesn't hurt that it has lots of positive feedback from Amazon and BougeRV reviewers on its performance. It has dual exhaust venting hoses that can help cool areas between 60-86 degrees Fahrenheit.
Is there such a thing as a 12 volt air conditioner?
Yes! 12v air conditioners are a relatively new technology as far as consumer tech goes, but they are gaining popularity. You can find 12v units that can be installed into the roof of your van or RV as a replacement for your 120v unit, or as a brand new install.
At the moment, these units are quite expensive, but the price is slowly coming down as more people adopt the technology.
How long will a 12V battery run an AC?
This varies greatly depending on the battery bank you have and the AC unit you're using. For example, a 100 Ah lithium battery can power a 15,000 BTU RV unit for 30 minutes. However, a bank of 8 batteries would power the same unit for 4 hours.
A smaller 12 volt air conditioner (for example, something around 5000-6000 BTU) can run anywhere from 4-12 hours on a single 280 Ah Lithium battery.
How many amps does a 12V air conditioner draw?
This depends on the unit. Most 12v AC units draw anywhere from 35 to 65 amps, while some draw as much as 180 amps.
What is the price of a 12V DC air conditioner?
Most 12 volt air conditioners are quite pricey still, as they are a relatively new consumer technology. The average price for a decent unit is around $3000. You can find them for as little as $800 but I wouldn't recommend using these.
The price is slowly dropping as more people adopt the technology.
So there you have it! My list of recommendations for some excellent 12 volt AC unit options. If you're planning to boondock in hot climates this year, you may want to consider a purchase. However, it is a high price point, so if it's not a necessity for you, or you have another method to cool your van, you may be better off spending that money on something else.