When I started the hunt for a new camping chair, I was overwhelmed at the variety available these days. I knew the $10 grocery store camp chairs I had been using for the last year of van life wouldn't cut it… but wow, I had my camp chair research cut out for me!
It seems you get what you pay for with top quality camping equipment, so I was willing to splurge on a chair that had my top-wanted features:
Extremely compact (to save van storage space)

Ultra lightweight (for easy transport between van/camp spots)

Quick and easy to set up (because I can get confused easily…)

Lounge-style seat (for long nights around a campfire)

Has four legs (for maximum stability at un-level camp spots)
I came across the Cliq portable chair and it caught my interest with its super compact size, while still transforming into a full sized folding chair. It was pricey, but Cliq was running a 20% off deal if you bought two chairs–and they'd include a carry bag. Since I want to take my boyfriend on more camping trips, I splurged on two chairs and got the carry bag included.
So, after 6+ months using my Cliq camp chair, I'm going to share my Cliq chair review on whether or not I think you should add it to your camping equipment arsenal!
What is the Cliq Camping Chair?
The Cliq chair is a portable, folding chair made of ultralight aluminum legs and stretchy, durable nylon fabric. It's designed to be used for nearly any daily adventure–from spectating, camping, beach chilling, car or tent camping–basically wherever it fits. The legs click firmly into place–guessing that's where the "Cliq" name for Cliq chairs came from!
The Cliq camping chair weighs 3.65 lbs. and rests 10 inches above the ground when set up. Its folded-up dimensions are 3.4″L x 3.4″W x 14.5″H and it has a carrying capacity of 300 lbs.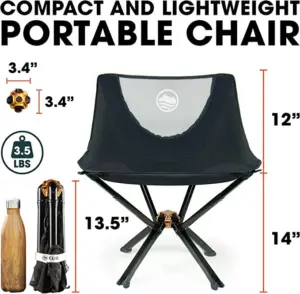 All Cliq products come with a 1-year warranty and a 45-day return policy if you aren't totally satisfied.
Directions on setting up and taking down your Cliq chair:
Undo the velcro strap
Let it naturally fold out
Extend each leg pole and make sure each one clicks into place
Voila! You have a seat
Put the chair away:
Take down each chair leg by clicking them back into shortened version
 Press the spring-loaded center button, which will allow the legs to fold inwards
Be sure to wrap the cloth seat inside the legs, then secure the velcro strap
Aircraft Grade Aluminum, Telescoping Chair Legs
One-Button, Spring-loaded Mechanism
Contoured Canopy-Style Seat
Side Mesh Pockets (On Both Sides)
Durable, Rubber-Covered Foot Pegs
Velcro Strap for Compact Storage (Carry Bag Not Included)
My Overall Thoughts on Cliq Portable Chairs
If you want a versatile folding chair that's ultralight and compact, a Cliq chair hits all of the marks. I bought this chair thinking I would use it while living in my van, but I've ended up using it for random day adventures and activities even more. From spectating at a beach volleyball tournament, using it on a boat deck and at the lake, it's also become my summertime beach chair!
And it's actually comfortable. It's the rare camp or backpacking chair that doesn't sacrifice comfort to be light and compact. I'm used to either bulky camp chairs or tiny uncomfortable backpacking chairs. The Cliq chair seems to be the ideal hybrid for me. I'm impressed that its carry bag easily fits both my and my boyfriend's chairs, while still being easy to carry around all day if needed.
But, it definitely costs more than your typical folding chairs–instead of a ~$50 price tag, the Cliq chair comes in at $110–yowza! But again, if one chair can cover my van living, day adventuring and beach-going needs, I consider the price tag of cliq chairs worth it. It is a great camping chair to pack up and throw into my camper van. It takes up less space than my previous cheap camp chairs and the carry bag helps save it from the endless dust that plagues my van.
Pros & Cons of Cliq Camping Chairs
As I hit on above, the biggest pro of the Cliq folding chair is its versatility. Its compact and lightweight features combined with its four-legged design means I can easily carry it on my back anywhere and set it up in beach sand, gravel, forest ground, pavement, even a boat deck.
It also comfortably fits in my day hiking backpack, if I don't want to use its carry bag. The way it clicks into place when setting up assures me that it's sturdy and stable, despite it being light and small.
My boyfriend plans to take his Cliq chair to work sites because he often spends full days in hospital rooms repairing equipment, where no good resting chair is available. I never would've thought of that as way to use this camping chair, but why not?
The ultralight chair has thick, rubbery peg covers at the base of each leg, which helps stop it from slipping around on slicker surfaces (like the boat deck). This also prevents sand, dirt and mud from collecting inside the hollow, aluminum legs.
While this is a small feature, the velcro strap that wraps around the chair when its packed up is wonderful. If you don't want to splurge on the carry bag, the velcro strap still keeps your chair tightly and neatly secured.
But PRO TIP: make sure you tuck in the mesh pockets so they aren't exposed when folding up the chair, because the velcro strap can catch on them and pull at the fabric; leaving it pithy and worn-looking. I accidentally did that already…
The biggest cons of the Cliq camping chair are its price tag ($110) and that I don't find setting it up as intuitive as its advertised–which led to me pinching my finger pretty badly the first time. I would also note that one of the small cloth loops at the top of the chair leg was ripped–not sure what these loops are for, but one of mine came ripped.
The Cliq chair is also advertised as packing up "to the size of a water bottle". Just for fun, I measured it up next to my 32 oz hydro flask and it was quite a bit bigger than my water bottle:
I think it's a bit of a stretch to say it packs up as small as a water bottle. My last "con" is more of a wish list feature: the ability to change its height. Its seat rests at 10 inches above ground when set up, which is great for sitting around the campfire but a little low for other things.
For example, we struggled a bit to get good spectator views of the volleyball game because of the fence surrounding the court. If we were able to raise our chair height, that would've been a game changer. But I'm sure adding that feature would make for a heavier and less compact chair–so it's all compromise!
Initially, I thought Cliq had messed up my order because I only received one chair despite ordering two (and with a complementary carry bag). But after reading my shipment confirmation email, I realized they state that they may ship one order in multiple packages via different carriers such as UPS or Amazon.
I reached out to customer support before realizing this and they responded really quickly, friendly and with clarifying info. So for what it's worth, I give two thumbs up to Cliq's customer support! One of my chairs showed up a few days after ordering via UPS, and the other chair and carry bag showed up a few days later, via Amazon.
If you plan on taking car camping trips, backpacking trips, camper van trips, beach trips, day hike trips, basically any trip–the super sturdy and ultralight Cliq chair is a great addition. Lightweight, compact, easy to transport and store, (relatively) easy to set up, I recommend grabbing one for yourself (and your traveling comrades) this summer!
Check out some of my other favorite camping gear–if you're in need of a quality cooler or portable battery power station for your camping trips!
Note*** I may earn a small commission at NO extra cost to you from Cliq purchases via their affiliate program. I only recommend products I have tested and trust.